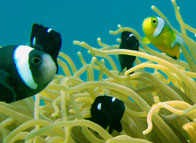 Credit: Jones et al./Current Biology 2005.Tracing the larvae of marine organisms from where they were born to their ultimate destination has been regarded as one of the greatest challenges in ocean science. Managers of marine reserves areas have eagerly sought this information to help determine the optimal size and spacing of marine reserves; well-planned reserves should help ensure that protected populations can sustain themselves as well as provide a source of larvae to maintain exploited populations in areas open to fishing.
In a new study, researchers have managed to uncover the patterns of local dispersion for a small coral reef fish species by employing a combination of inventive tracking techniques. In addition to providing ecological information about one particular fish species, the work suggests ways that the ecology of other fish can be studied and applied to strategies for the maintenance of stable populations.
Most marine fishes start their lives as tiny larvae, smaller than a millimeter, and any thought of tagging them to track their movements was once considered impossible. However, researchers Geoff Jones from James Cook University (Australia), Serge Planes from the University of Perpignan (France), and Simon Thorrold from Woods Hole Oceanographic Institute have overcome this problem with a novel application of DNA paternity analysis, in combination with a means of marking larvae with the antibiotic tetracycline. They show that for the panda clownfish (Amphiprion polymnus), a significant proportion of larvae ultimately move less than a few hundred meters away from their parents. In fact, the researchers found that one third of juveniles settled within a so-called "natal area" covering just two hectares (less than five acres). Although the other two-thirds of the fish have yet to be traced, they appear to have travelled in excess of 10 km (6.2 mi) away from their birth site. The study also shows that although no individuals returned to their parents, a few made their home less than 50 meters away. (Hence, the authors point out, Nemo the clownfish may not have been living with his dad, but he might have settled just down the street.)
Although clownfish spend a relatively short period of time as larvae (approximately 10 days), the results are significant because they document the smallest scale of dispersal known for a marine fish species. Clownfish are subject to a thriving aquarium-fish trade in many tropical countries, and their numbers have been seriously depleted. This study provides real hope that marine reserves can provide the right balance between conserving such species and exploiting them in a sustainable manner.
Jones et al.: "Coral Reef Fish Larvae Settle Close to Home." Publishing in Current Biology, Vol. 15, pages 1314–1318, July 26, 2005. DOI 10.1016/j.cub.2005.06.061 www.current-biology.com
Source : Cell Press