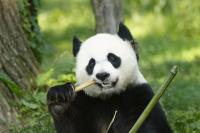 Mei Xiang, the female giant panda at the Smithsonian's National Zoo, was artificially inseminated March 19 by a team of Zoo scientists and veterinarians. The decision to perform the procedure was made after no successful mating had occurred between Mei Xiang and the Zoo's adult male panda Tian Tian. Timing was critical since giant pandas have one breeding season per year lasting only 24 to 48 hours. If the insemination is successful, the female panda is expected to give birth in the next 90 to 185 days. Credit: Jessie Cohen/Smithsonian's National Zoo The 2008 giant panda mating season began Tuesday, March 18, at the Smithsonian's National Zoo. Female Mei Xiang (may-SHONG) and male Tian Tian (tee-YEN tee-YEN) attempted to mate throughout the day Tuesday.
Zoo staff carefully observed each mating and, because satisfactory mating did not occur, Zoo scientists and veterinarians performed a nonsurgical artificial insemination Wednesday morning. Both pandas were anesthetized, allowing Zoo scientists to collect sperm from Tian Tian and insert it directly into Mei Xiang's uterus.
Giant pandas have one very brief breeding season per year, with only a day or two of actual mating.
Zoo staff separated Mei Xiang and Tian Tian prior to mating. Following mating, they will remain separated for the next few months, until Mei Xiang either delivers a cub, or until Zoo scientists determine that she is not pregnant. Keeping the pandas separated will reduce the risk of increased stress hormone levels in Mei Xiang, which could jeopardize ovulation, conception and implantation. Veterinarians will monitor Mei Xiang's hormone levels and perform ultrasounds to determine whether or not she is pregnant.
A team of experts from the National Zoo developed the comprehensive breeding plan for the Zoo's giant pandas. They took into consideration the genetic goals for the zoo population in addition to the welfare of each animal.
During 2007's breeding season, the National Zoo collaborated with the San Diego Zoo to use frozen semen from their male panda, Gao Gao (gow-GOW). As part of the breeding plan, he was considered again this year to be an ideal sperm donor for Mei Xiang. In February, Gao Gao was examined for signs of discomfort. A definitive cause could not be determined, but the panda's discomfort may be related to arthritis. Because his condition is still being monitored, scientists and veterinarians decided not to anesthetize him for semen collection and, instead, allow Mei Xiang to mate with Tian Tian.
This year's breeding is very similar to what took place in 2005, when scientists performed an artificial insemination after natural mating attempts between the two bears proved unsuccessful. That led to cub Tai Shan (tie-SHON), who was born July 9, 2005. He will remain at the National Zoo until some time after his fourth birthday, when he will be sent to a giant panda preserve in China. Source : Smithsonian