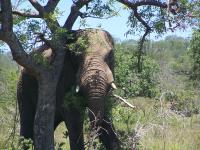 An elephant browsing for fruit in a female Marula tree. Being female can be a risky business, especially if you are a Marula tree in Africa receiving the attention of elephants. The tasty, nutritious and vitamin C-rich Marula fruits are much sought after by both man and animals. It is a stable "wild food" and base for the popular Amarula liquor. But Marula has separate male and female trees so fruiting females attract browsing elephants, which cause damage to branches and bark.
Recent research in Hluhluwe-Umfolozi Park, KwaZulu Natal, South Africa puts this predilection into an evolutionary perspective. "Many fleshy fruits that we enjoy, like mangoes and avocados, once evolved to be eaten and dispersed by elephant-like creatures that are now extinct." says Åsa Hemborg, author of the study published in the African Journal of Ecology, "In the world today, only Africa and Asia can show examples of how these powerful browsers affect the trees they feed on. The sweet and fleshy Marula fruits evolved to attract the most powerful browser on the savannah - the African elephant."
In this, the Marula trees are very successful "In fact, elephants are crazy about them!" observes Dr Hemborg "They spot the Marulas from far and walk long distances to feed on fruits, foliage and bark." The research shows that the female Marula suffers a higher risk than the male tree of being destroyed and perhaps killed by elephants. "There is a conflict of interest experienced by female trees when the disperser also has the potential to seriously damage or kill the tree."
Interestingly, evolution has not provided the female tree with tougher branches, as their branch resistance was similar to that of male plants. This suggests that it may be hard to resist elephant attacks by strength alone. Instead, the selective pressure of browsing may promote the evolution of trees with good resprouting ability.
Although mega-herbivores such as the elephant have now gone from most parts of the planet, study of unisexual trees such as the Marula can help shed light on the shape and form we see in trees today because only females live with the risk of being destroyed by the same animal that she seeks to attract as a disperser for her fruits.
Source : Blackwell Publishing Ltd.