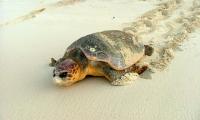 A Cayman Islands loggerhead turtle. Ecology and conservation experts from the University of Exeter today urge international governments to work together to protect threatened Caribbean sea turtle populations.
The Cayman Islands, a UK Overseas Territory, once supported one of the world's largest sea turtle rookeries, which comprised some 6.5 million adult green and loggerhead turtles. These populations were driven into decline from the mid-1600s onwards, when massive harvesting of nesting turtles began. Only a few dozen individuals survive today.
New research, led by the University of Exeter's School of Biosciences and the Cayman Islands Department of Environment, reveals the astonishing distances these animals travel and the extent to which they are now threatened. The study was published open access today in the international conservation journal Endangered Species Research.
Marine turtles spend most of their lives at sea, but where these Cayman Islands survivors live when they are not nesting has been a mystery until now. Experts from the University of Exeter, the Cayman Islands Department of Environment and Duke University, USA, followed the journeys of ten endangered adult females over three years.
Using satellite transmitters, the team tracked the turtles travelling as far as Belize, Guatemala, Honduras, Mexico, Nicaragua and the USA. On these long journeys, turtles face the risk of being caught for meat, as well as accidentally captured by shrimp trawls, longlines, and gillnets. As turtles travel across boundaries between countries, conservation legislation is inconsistently applied and enforced, leaving them vulnerable.
Dr Brendan Godley of the School of Biosciences at the University of Exeter said: 'Having followed these turtles thousands of miles through the ocean, we now know where they go, so can identify which countries need to be involved in their conservation. We are running out of time and what is now needed is a team effort from all of the governments to save these fragile populations.' Source : University of Exeter